Ecowarm Performance
Ecowarm is designed to provide the perfect mix of performance, efficiency, cost effectiveness and environmental features.
Performance
The performance of a radiant floor thermal mass system is generally measured by the temperature of the supply water temperature required to meet the load of a space and the response time to meet the BTU load. Ecowarm can meet loads with low supply water temperatures and provides very fast acceleration due to its very low mass and the highly conductive aluminum laminate.
Efficiency
Generally speaking, thermal mass system efficiency is determined by the supply water temperature required to achieve a given BTU load. The lower the temperate of the supply water temperature, the more efficient the radiant system. The low mass and highly conductive laminate disperses heat rapidly realizing a low supply water temperature of 92F to produce 15 btu per sq ft on a bare floor surface which is an typical heat load requirement for modern homes. Of course the resistance of various floor coverings will effect supply water temperature and must be factored in the design of all systems. This means with Ecowarm, you start with a very efficient delivery system resulting in lower water temperatures when the floor covering resistance is added on top of Ecowarm.
Ecowarm is capable of providing the BTU heat requirements of almost all modern homes. It should be installed with good hydronic practice, designed with an understanding and consideration for the R-value of the floor coverings and required heat loss of the structure. Download and read our Installation Manual for more information regarding design and proper installation. A simplified version of the performance chart below as well as a floor covering chart are contained in the Installation Manual.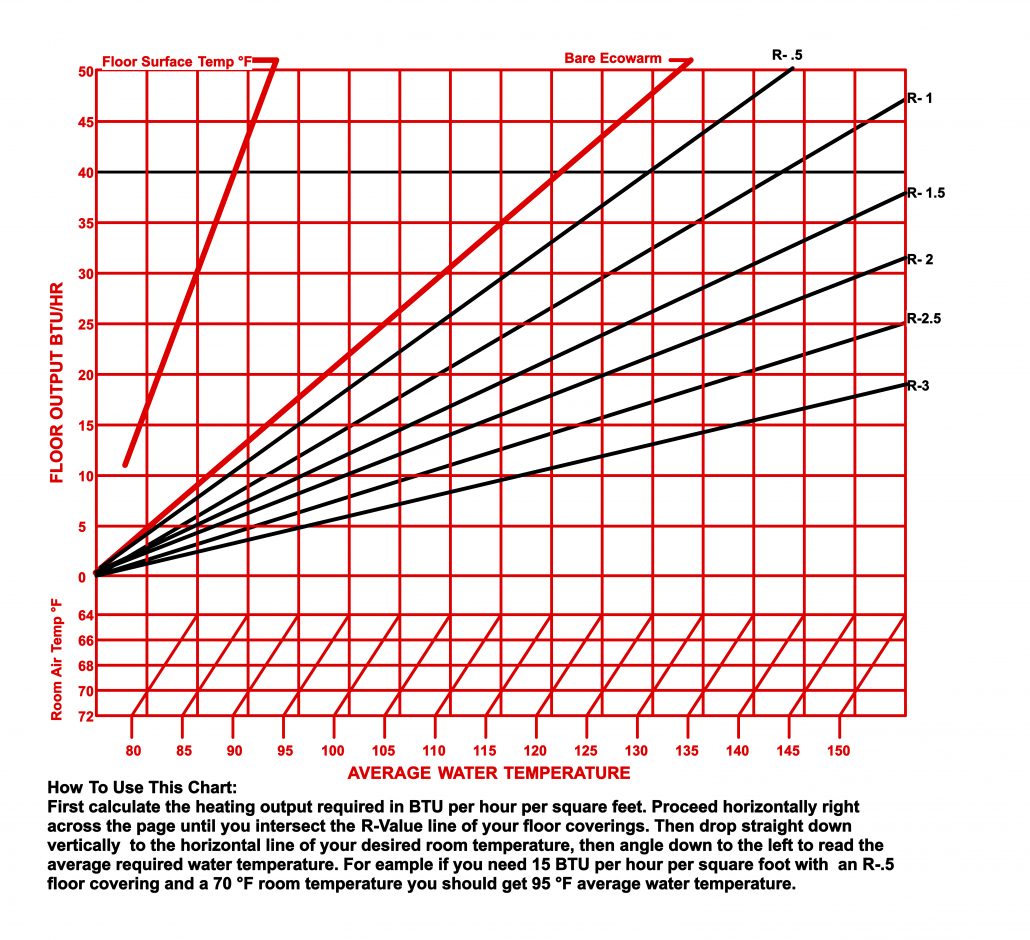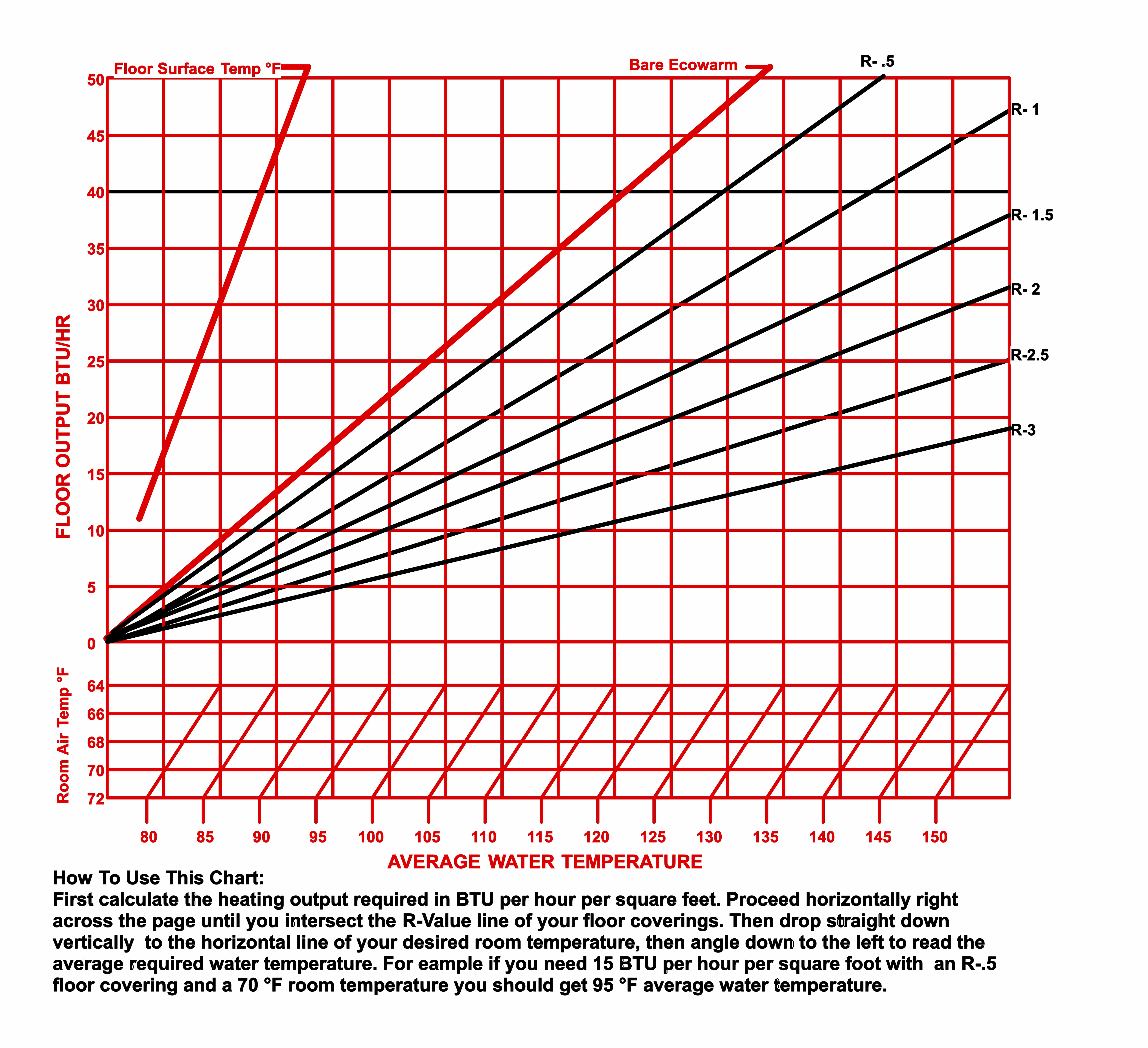 This Ecowarm Performance Chart above is more sophisticated than the one in the Installation Manual and may be downloaded here. Other important measurements of performance are how fast the product heats up and how temperature spread across the panel. Ecowarm accelarates rapidly, six times faster than concrete and therefor is suitable for use with setback thermostats. At the BTU outputs of most houses that meet new energy codes Ecowarm operates with little temperature banding. The pictures below show an ecowarm radiant heating system operating at 15 BTUs an hour output with less than 2.8 degrees of temperature difference across the board. You are looking at Ecowarm covered by 3/4″ of oak flooring. the cross hairs indicate the high (81.1°F) and low (78.3°F) temperature across the board and 3 sensors are shown that verified the thermographic camera readings.
Ecowarm Cost Effectiveness
Ecowarm is designed with just the right thickness of aluminum to be thermodynamically effective in the BTU outputs required for modern houses but not wasteful of the planet's metal resources. This makes Ecowarm a very cost effective choice for radiant heating.
Ecowarm Performance is Also Environmentally Responsible
Ecowarm is made from sustainably forested FSC® certified Plywood made here in America and uses aluminum with recycled content also made in America and our aluminum layer is bonded with a low impact low VOC water based adhesive also American made. Our goal is to make the most environmentally responsible, cost effective high performing radiant board in the business.
Get a free quote!
Factory direct to your jobsite!