The Ecowarm RadiantBoard Design & Installation Manual
Learn all you need to layout and install Ecowarm RadiantBoard for residential and commercial applications, including the installation of flooring products over Ecowarm radiant panels.
We have developed additional web-based resources for Flooring Goods Over Radiant and Special Applications like installing Ecowarm in ceilings and walls requiring vapor barriers.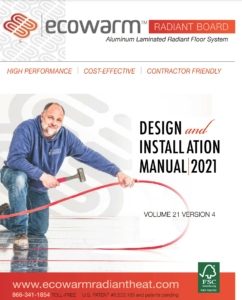 Get a free quote!
Factory direct to your jobsite!
Ecowarm RadiantBoard is a product of WBI. Warm Brothers Incorporated (WBI) was founded in the year 2000 with the granting of patent 22323 for radiant panels systems.
The company has been offering several radiant panel designs under different  patents manufactured in both the Eastern and Western United States under several brand names providing the broadest offering of radiant panel solutions in the industry.