Quality. Efficiency. Economical Radiant Comfort.
RadiantBoard is a radiant floor heating aluminum laminated panel heat transfer system designed to be used over a sub-floor or when properly installed, over cement. It creates the pathway into which 1/2″ radiant PEX tubing is placed.
When warm water is circulated through the PEX tubing, the heat is transferred to the efficient, fast responding RadiantBoard, the flooring materials and then radiated to the heated space providing luxurious silent, even heat. It can be used under almost any floor covering.
RadiantBoard is the best balance of high-performance, cost and environmental responsibility in the radiant floor heating market.
More contact. Better heat transfer. Excellent efficiency.
Observe the greater contact between tubing and aluminum than other products
Ecowarm RadiantBoard has a patented overbite groove design that gives a larger and tighter surface connection of the tubing to the aluminum resulting in better performance. Good design has a tight, complete connection between the aluminum and the tubing carrying warm water.
With our patented overbite design, tough PEX tubing is snapped or whacked into the groove with a small mallet. When warm water flows through the tubing it expands into the space, making a very tight heat transfer connection. The result is excellent performance.
See how Ecowarm installs over these common floor types. 
Flooring Goods Friendly
We provide detailed instructions & graphics for installation over most floor coverings. Ecowarm works with most flooring goods including:
carpet
tile
stone
hardwood
laminate
vinyl
+ more!
"Easy to cut. Easy to screw. I absolutely loved the install process. What you guys provide is literally a "paint by number". As far as speed, I couldn't be happier. The process was really quick and only took one day." – Anthony Carrino
"You guys have been outstanding. Superb customer service and knowledge for my "hundreds of questions". Especially these days, I love it when the owner of the company gets on the phone to explain details about their product – thanks Hoyt!"  – J.C. | Homeowner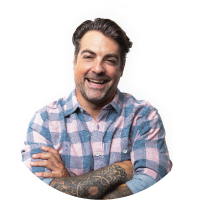 "Its pretty badass. If you're in the market for radiant, I highly recommend looking into these guys. And maybe the best part, is that they are super nice to work with. You can check out my Deep Dive interview with them and you can just see how passionate they are about what they do…even after 30+ years in the business!" – Anthony Carrino — Anthony Carrino, Thebuild.tv
Radiantboard Product Comparisons
An efficient heating system provides a long term lower operating costs, a fast-responding system for better temperature control and comfort, plus a system that is both easy to install and cost-effective. Interested to see how Ecowarm compares to the competition? We are confident you will select Ecowarm RadiantBoard for most applications.
How to Buy & Other FAQ's
Here are some questions that often arise. Feel free to call us any time with any questions!
How do I buy Ecowarm RadiantBoard
Begin the process by requesting a free project quote. One of our team members will reach out with your estimate!
Can Ecowarm RadiantBoard heat all types of rooms?
Yes, but there are conditions where high resistance carpet and pad is installed in a great room with a lot of glass in a very cold climate. Under those rare conditions, the designer will recommend supplemental heat of some sort.
When is Ecowarm RadiantBoard installed?
Ecowarm RadiantBoard is typically installed just prior to the installation of finished flooring goods. Store Ecowarm RadiantBoard on the job site in a dry, cool space until it is ready to be installed, in the natural progression of construction.
Is Ecowarm RadiantBoard really that efficient?
Yes. Other higher mass concrete type systems have a lot of mass, which may sound good but they have some resistance and more response time issues. Underfloor systems have both high heat transfer resistance and heat loss opportunities resulting in higher operating costs. You want a system close to the flooring goods with high heat transfer characteristics.
Will Ecowarm RadiantBoard heat the surface evenly?
Yes, Ecowarm RadiantBoard heats evenly due to the high heat transfer of its aluminum laminate. In a modern home with proper radiant controls, there is no reason to experience a significant temperature difference between radiant tubes.
Is Aluminum Laminate in the grooves of Ecowarm?
Aluminum laminate is factory installed in the grooves of the Ecowarm RadiantBoard straight panel, but the super combo panels including curves are made differently as follows:
The super combo boards with curves are first grooved for the tubing using a computerized router. The boards are laminated with the covering layer of aluminum then the grooves are indented and perforated down the middle of the grooves. Combo boards have many perforated grooves to choose from. During installation, the tubing is walked into the chosen grooves splitting the aluminum which then compresses to the side of the tubing.
This results in lower conductivity for ¼ the circumference of the tubing covering in the combo boards (about 35% of the floor surface) It also leaves the conductivity of the aluminum covering unchosen grooves intact. Testing has shown no significant impact on heating efficiency or comfort.
This also significantly lowers manufacturing costs of manufacturing Ecowarm RadiantBoard. The result: the best value in the market.
How long does it take to install Ecowarm RadiantBoard?
If your plan has lots of open space and few tight locations, that makes it faster (fewer cuts and fussing). If your installer has some experience, that really helps. So, planning on 250-500 sq ft per day is reasonable with two people.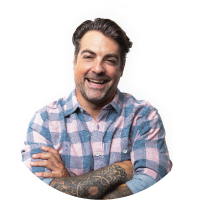 Seriously impressive! The panels did not take long to install…The Ecowarm guys sent us shop drawings based on my architectural plans. We laid out the room — it was paint by number. Everything got screwed down, then the installers cut the slits, laid out the tubing, locked it into the precut channels and that's it! Room is done in 10 minutes. Pretty awesome! — Anthony Carrino, Thebuild.tv
Laurel Hoover
Ecowarm Sales Manager
Contact Us Today For a Free Quote!
Ecowarm RadiantBoard incorporates the best balance of high performance, material quality, environmental responsibility, and cost. In short, Ecowarm RadiantBoard represents the best value in radiant board heating systems.