Ecowarm Compared to Warmboard
Ecowarm's effective blend of lower cost, higher board quality, good performance, and environmental responsibility make it a superior selection to Warmboard R.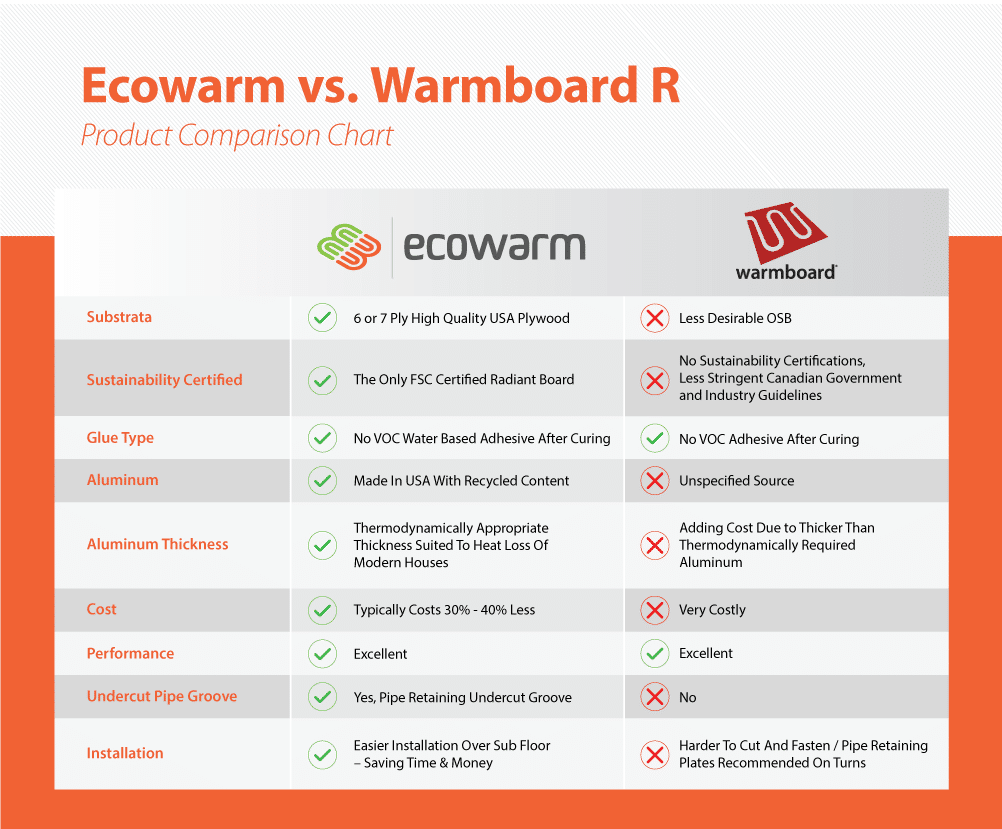 Contrary to Warmboard claims, we have been manufacturing nonstructural radiant heating boards for 16 years and the Ecowarm product line for 5 years. Warmboard originally sold structural Warmboard S but more recently developed the nonstructural Warmboard R.  While Warmboard R may appear to be similar to Ecowarm there are important differences to help inform your product choice.
COST:
Ecowarm is typically 35% less costly than Warmboard R or Warmboard S for that matter. Warmboard R remains more expensive than Ecowarm because it uses the company's existing over-engineered aluminum plates adopted from their structural board Warmboard S. Additionally; Warmboard employs a nationwide network of factory direct, expensive salespeople.
QUALITY:
Ecowarm employs high quality, sustainably forested 7-ply FSC® certified plywood made in the USA. Warmboard uses oriented strand board (OSB), a less expensive, not-sustainably certified and generally less desirable substrate.
Ecowarm uses the appropriate thickness of aluminum laminate for this application applied with a water based low VOC strong adhesive.

Performance is generally described by measuring the steady state performance of a system and the response rate of a system. Both Warmboard and Ecowarm are top performing systems.
     Response Rate: Warmboard promotes almost exclusively the excellent response rate of their product to respond to rapid temperature changes within a home. They do have an excellent response rate however response rate is only one aspect of a great radiant heating design and super responsiveness is important in conditions rarely seen in well-designed radiant heating systems. Weather does sometimes change rapidly but a well-designed radiant system employing a weather responsive control, as recommended by the RPA (Radiant Professionals Association) design guidelines, provides both superior comfort and automatically responds to rapidly changing temperature conditions. This type of system constantly idles the water temperature of the system water just below a useful output temperature and quickly raises or lowers the water temperature as required in relation to outdoor temperature.  Additionally, weather responsive controls themselves can offer a 20% savings in operating costs beyond the benefits of a thin mass, aluminum clad radiant panel system like Ecowarm or Warmboard.. Warm board testing appears to demonstrate acceleration from a cold start (0 BTU/HR), which rarely occurs in a well designed system even in setback conditions. So what this means is that Warmboard will provide great performance when turning the system on at the beginning of the heating season. Good response is very useful but super responsiveness just does not provide meaningful, cost effective value in the real radiant system world. This why we have selected the thermodynamically appropriate and a value sensitive thickness of our aluminum laminate.
Warmboard in house comparison testing is non- peer reviewed and to their advantage, which one would expect from a sales company promoting their product.  Our in-house testing indicates that Warmboard does respond 20% more rapidly than Ecowarm, not the 40% Warmboard claims. The important point is that both Warmboard and Ecowarm provide a far superior solution to other methods of delivering radiant heat in both efficiency and response time.
Steady State Efficiency: This is the metric that almost all radiant manufacturers publish to demonstrate the effectiveness of a radiant system using different heat delivery methods (concrete, Gypcrete, underfloor, Ecowarm etc). The temperature of the supply water required to meet a specific heat output to the room demonstrates the efficiency of a system; the lower water temperature the better. Almost all of a radiant systems heating season is spent cycling through a steady state condition, so this data point is important. Ecowarm requires very low temperatures to meet steady state heat loads.  Warmboard company steady state performance chart indicates they might require a supply water temperature slightly lower than Ecowarm in common heat load conditions. As they admit in writing, the steady state performance of their system is very close to Ecowarm. So this makes both Ecowarm and Warmboard as leaders in system efficiency among all other methods of applying radiant heat to a home.
STRIPING:
Despite claims by Warmboard, Ecowarm should not create hot and cold spots on a floor that can be felt by people in most conditions. In the Ecowarm images below, cross hairs indicate the low and the high surface temperature across the board. You can also see the 3 temperature sensors we used to confirm the temperatures revealed by the thermographic camera. Note the very modest 2.8° F difference between the high and low temperatures across the Ecowarm board, confirming evenly distributed heat.
Ecowarm at 15 BTU/hr per square foot
ECOWARM IS GREEN:

Ecowarm is FSC certified. Warmboard is not. Ecowarm uses FSC certified plywood  FSC certification means our product is made from wood grown in sustainably managed forests with a monitored chain of custody. You know what you are getting. The OSB used by Warmboard R comes from Canada which has recommended sustainability guidelines not regulations or certifications. Therefore it is impossible to track the provinance of a strand of OSB. In contrast Ecowarm's s FSC Certification means the plywood substrata has a chain of custody tracking.
 Ecowarm uses aluminum thick enough for effective heat transfer. Warmboard uses thicker aluminum due to structural strength issue with their original structural product, Warmboard S.  Both Ecowarm and Warmboard use low VOC adhesives for attaching the aluminum laminate.Ecowarm's use of sustainably forested substrata,  low VOC glue, aluminum with recycled content, and a thermodynamically appropriate thickness of aluminum means Ecowarm has a significantly lower impact on the planet than Warmboard.
ECOWARM INSTALLATION ADVANTAGES:

The thicker aluminum used by Warmboard makes cutting much more difficult on the blades and the contractor. Installers complain of  damaged saws and gashes caused by the very sharp edges.  Ecowarm panels are lighter  making them easier easier to cut and place. 
As the curved combo sections of Ecowarm are serrated, a mallet or heavy rollercan be used to pound the tubing in place.
Warmboard's groove is stamped and straight sided: the tubing has a harder time staying in the groove, especially in the curves, so Warmboard's installation instructions recommends using electric protector plates to keep the tubing down (below, right) which are then are removed as wood floors are installed. This extra Warmboard step is time consuming, adding to labor hours/cost.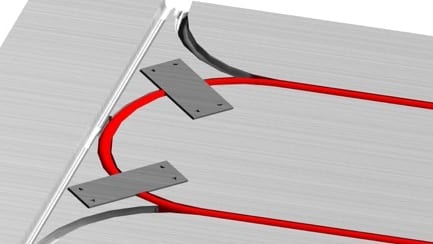 Most flooring contractors prefer nailing a wood floor to a high quality fir plywood  Used in Ecowarm) over the less desirable OSB (used in Warmboard R).
Get a free quote!
Factory direct to your jobsite!