Gas Fired Mechanical Systems
See for yourself! Ecowarm Timelapse Video
*Note: The above video is an infrared timelapse of Ecowarm without the final flooring goods installed. Once your floor is installed you will see even greater conductivity across the surface of the floor.
There are many ideas in the industry about the best mechanical system for a given type of project. Here are some ideas based upon our combined 55 years' experience.
Mechanical Design:
A builder can rely on his/her local plumber or radiant contractor to design and select all the mechanical components for a radiant mechanical system. Our experience is that there are some very knowledgeable and experienced radiant installers across the country but, like most industries, there are also many plumbers who are over their heads in radiant mechanical design.
We suggest that a builder invests in a professional mechanical design above and beyond the Ecowarm RadiantBoard tubing and board layout unless the builder already has an existing relationship with a proven radiant mechanical installer. It can be very useful to have different mechanical installers quote on the same design for comparison purposes.
We offer full mechanical design:  https://ecowarmradiantheat.com/ecowarm-radiantboard-system-design-info/
Gas Fired Heat Sources
Boilers: Boiler and Indirect Water Heater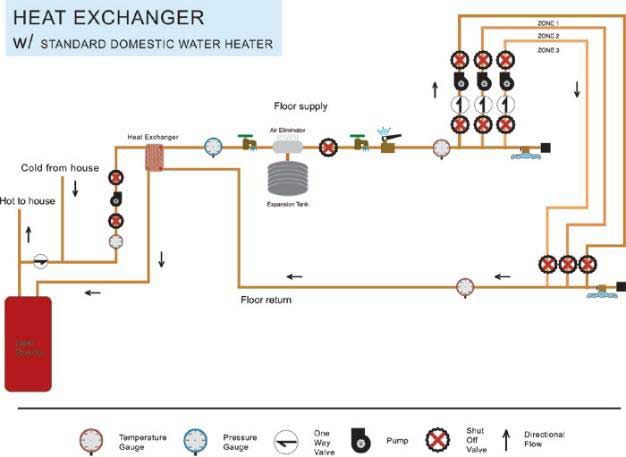 Boilers have been used for years as the durable workhorse of hydronic heating. Almost all boilers are now high efficiency modulating models that work best at the lower water temperatures required with radiant floor heating. Boilers can also be paired with indirect water tanks to provide copious amounts of domestic hot water.
Combi Boilers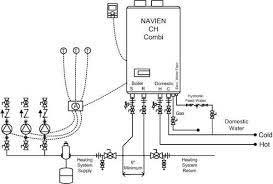 A combi boiler is a typical wall hung boiler with an internal extra heat exchanger that generates domestic hot water and closed loop hydronic heating in one unit. These are very popular in Europe, Asia and now the U.S. They also usually have an internal hydronic circulator, vents, and controls that reduce piping and installed cost. They normally have limited domestic hot water output.
Water Heaters for Radiant Heating
Tank Water Heaters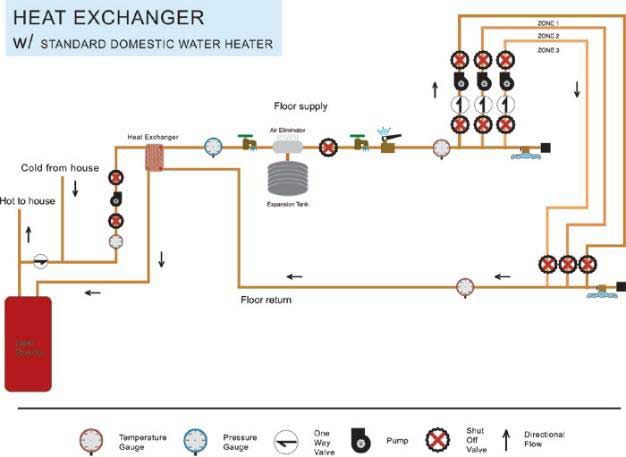 One can use a high efficiency, high output, well-insulated water heater to meet the domestic hot water load
(Example:(http://www.htproducts.com/phoenixldwaterheater.html ) in concert with  an external heat exchanger to create a closed-loop system for your radiant system. A great package that addresses this need is made by Taco http://www.tacocomfort.com/products/systems/radiant_systems/x-pump_block_xpb/index.html. This combined hydronic system can provide lots of domestic hot for homes with big tubs and the radiant fool heating in one simple and compact approach.
Tankless Water Heaters
Tankless water systems modulate their flame according to domestic water demand but they are usually not designed to modulate properly in a closed loop hydronic system design used by all professionals. Most tankless heaters have light weight, very low mass heat exchangers with the propensity to cycle often unless a one employs a buffer tank (cost and complication). They normally have very high-pressure drops through their heat exchangers requiring high head (high energy use) circulators to extract the energy from the heat exchanger.  Their charm is that they are cheap compared to boilers but they have demonstrated to us a lower service life than more rugged boilers design for the application.
Get a free quote!
Factory direct to your jobsite!
Ecowarm RadiantBoard is a product of WBI. Warm Brothers Incorporated (WBI) was founded in the year 2000 with the granting of patent 22323 for radiant panels systems.
The company has been offering several radiant panel designs under different  patents manufactured in both the Eastern and Western United States under several brand names providing the broadest offering of radiant panel solutions in the industry.